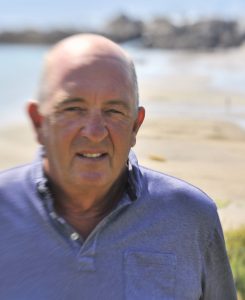 John Simes was born in Lambeth and spent his early years in a council flat in Penge. His father, John, was a founding member of the Special Boat Service and he served as a commando before entering the legal profession, after the war. His mother, Joan, was a psychiatric nurse and worked in London during the blitz. 'Mum and Dad were enormously gifted people who built a life out of the post-war rubble of London.' John has a sister, Valerie. 'She was brilliant to me. She taught me to love reading.' John squeezed through his 11+ on interview by 'convincing a panel of old buffers that I knew how to bowl a googly!'
He attended a boys' grammar school in Woking. 'It was a place that was rough and tough, and open-season for bullies. But one teacher, John Moore, an ex-Lancaster bomber pilot with a tin leg, changed my life. He taught us literature and French. I was so excited by his lessons, and he was a brilliant story-teller. I owe everything to him.'
John survived by playing sport and acting in the annual school plays, debuting as the fairy, Mustardseed, in A Mid-Summer Night's Dream, and finally playing Claudius in Hamlet and Thomas Cromwell in A Man for All Seasons. 'We had a few really good teachers, fortunately, but if Ofsted had been around it would have been put into special measures!'
John scraped through his A Levels and went to a teacher-training college where his acting continued, performing the plays of Pinter and Beckett. "I realised I loved teaching on my first teaching practice in Paddington. My life had begun. I also met Jo – and we married in 1971." John taught English and Drama in the state secondary sector and wrote teaching books that were published by Hodder. John and Jo had three children – while John studied for a MA at Southampton. He became Head of English at Hounsdown School, Totton in 1980, and went on to serve as the principal of two UK comprehensive schools. In 2004, he founded Collingwood Learning – a consultancy for school improvement. In 2013 he established Collingwood Publishing Limited. John was brought up in Lambeth and Penge (London) – locations he revisits in his latest book, A Game of Chess. He lives with his family in Challaborough, South Devon, England, where he grapples with his addictions to cricket, poetry, and the stunning local landscape, as well as his continuing fascination with travel, education and teaching. John loves progressive rock music and is a devoted fan of Crystal Palace FC.
John visits schools to run creative writing sessions on The Dream Factory and A Game of Chess and promote reading for pleasure through the Society of Authors Reading for Pleasure award scheme.
---
Publications:
Network 1, Network 2, Beginnings (Hodder & Stoughton, 1981, 1984).
The Dream Factory (Ghosts) – 2013 (CreateSpace/Amazon)
The Dream Factory – 2017 (Matador)
A Game of Chess – 1st November 2018 (Collingwood)
The Upperthong Thunderbolt – 16 October 2021 (Collingwood)
Cape Farewell – November 2022 (Collingwood)
---
"A great many people assisted with my writing – they are listed in the acknowledgments. Mark Duffield's interpretations of the songs from The Dream Factory were a wonderful gift. I would strongly advise any writer to pull together a team of readers – family and friends, but more importantly people you may have 'met' via Twitter or other social media. Honesty is pure gold when it comes to gauging public reaction and the Twitter, FB and Instagram groups have been brilliant.
I enjoy the research that goes into writing a novel. I love spying out places for use as locations. For A Game of Chess, I took the journeys around London that the characters take; I snapped a stack of photographs and videoclips so that I could work with them on screen and write at the same time – that certainly works for me. For the scene in Chapter 21 where Yvonne is climbing the winding staircase inside the tower, I used a Gopro camera and walked up the stairs of the 'Heretics Tower' – Chicheles is its real name.
Navinda is the daughter of a Palestinian family living in Birmingham; I drew on my teaching experience in London and Bristol but also talked to people with knowledge about families and relationships between young people in Palestinian communities. These are vitally important details – for example where Navinda talks about her relationship with a boy, Wahaj, in Chapter 29. The love story of Peter and Navinda needed careful thought, as their relationship develops and becomes more complex.
Reading? Newspapers, good journalism, biographies. I love Polly Samson's work, and keep a collection of favourite novels above my writing desk. When writing, I will dip into them to see how the greatest writers would handle a particular scene, event or dialogue."
Polly Samson – Lying In Bed (comic and tragic portraits of people, compelling interior spaces – superlatively written)
Hemingway – A Farewell to Arms (the bloody nature of war, and the power of love are handled brilliantly)
James Joyce – Dubliners (the master of 'stream of consciousness' writing)
Jane Austen – Emma (I love her dialogue – soft as the sound of a willow cricket bat on leather!)
Mike Scott – Confessions of a Waterboy (Entertaining and beautifully written biography).
Do read my blog and let me know what you think of The Dream Factory and A Game of Chess – I would love to hear from you…"